Regular Service
Experienced Filipino staff will be providing the service in your residence and do you household chores in behalf of you. Household chores such as ironing, shopping and any of your requested housekeeping tasks.
Features

of Kurashinity

Regular Service
6

reasons

to choose Kurashinity
1.

Certified as a secure
housekeeping service provider

Housekeeping service accreditation is an assessment process conducted by both Japan Housekeeping Service Council and Japan Standard Association Group of which these organization evaluate the service quality of all the housekeeping service agencies in Japan.

2.

A Pasona quality.
Pasona is a leading comprehensive HR
solutions corporation in Japan.

All the staff are Philippine nationals, holding a nationally recognized qualification. Pasona is closely involve in the staff's recruitment process, training and society integration support. The staff have undergone more than 400 hours of training.

3.

Worldly renowned hospitality
and English speaking ability

All the staff have at least 1 year relevant housekeeping work experience in different parts of the world. From Middle East, Hongkong, Taiwan, and Singapore, the staff have abundant experience in adapting various cultural working environments and client requirements. A bilingual housekeeping staff who is exposed globally and have a deep understanding on the Japanese housekeeping style expectations.

4.

Staff skill

certified grading system

Basing on Pasona's exclusive "Housekeeper Meister Program", the staff are categorized into 5 levels depending on the number of years of housekeeping work experience, language skills, service skills and regular training performance evaluations.

5.

Reliable designated staff

Clients can feel at ease of having a designated staff visiting your residence for each regular service. For any inquiries regarding staff assignment, please do not hesitate to contact us.

6.

Value client privacy and services covered by damage insurance

In addition to meticulous privacy management, in the event concrete damages occur due to an accident during the service provision, clients are at ease as the services are covered by liability insurance.
Below task are covered in Kurashinity's regular services.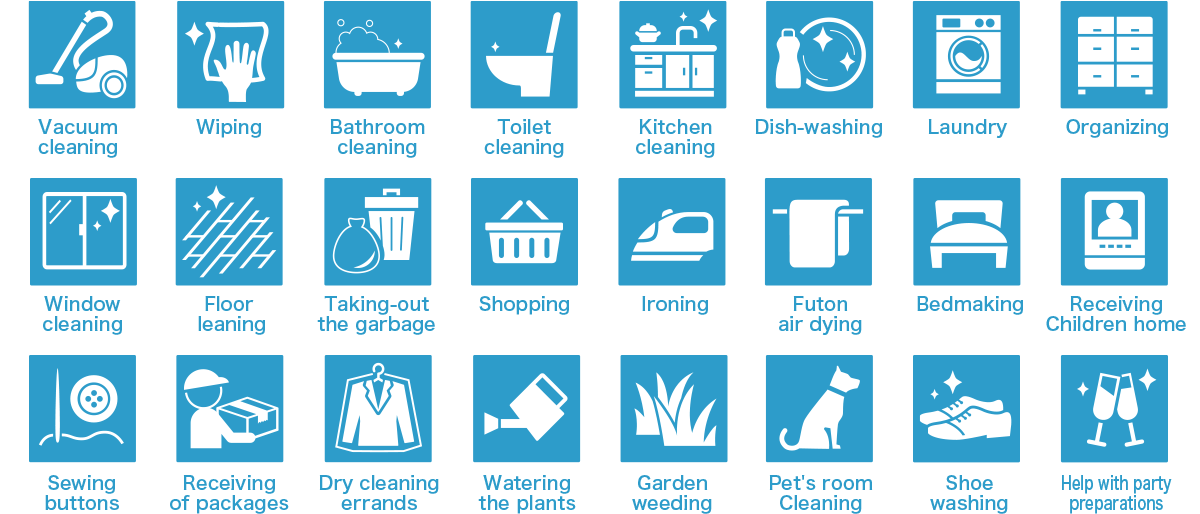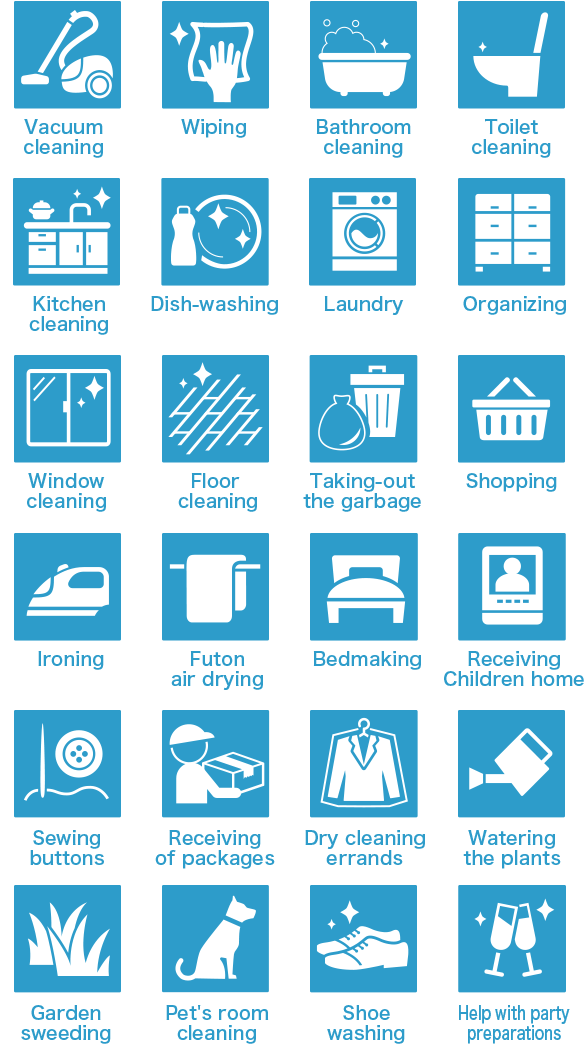 Situations where
Regular Services

is

Utilize
CASE
1


3-hour service simulation for working couples or families with children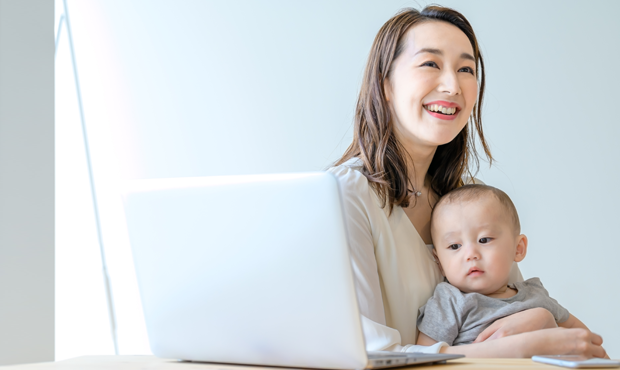 Kurashinity supports working couples, families with children, families who are busy with child rearing, families who want to utilize the weekends doing more fun activities with their children.
Not only cleaning and laundry, Kurashinity can also iron the children's school uniform and fixing loose buttons.
9:00

Room ventilation, Laundry
15 mins

9:15

Clean up breakfast, Kitchen cleaning
30 mins

9:45

Bathroom cleaning
20 mins

10:05

Hang out the laundry
15 mins

10:20

Powder room & Toilet cleaning
30 mins

10:50

Window cleaning (Livingroom, Dining room)
20 mins

11:10

Dusting (Livingroom, Dining room)
10 mins

11:20

Vacuum cleaning, Floor cleaning
20 mins

11:40

Ironing (3~5 pcs)
15 mins

11:55

Taking-out the garbage
5 mins

12:00
CASE
2


3-hour service simulation for families with senior family members or entrepreneurs working from home.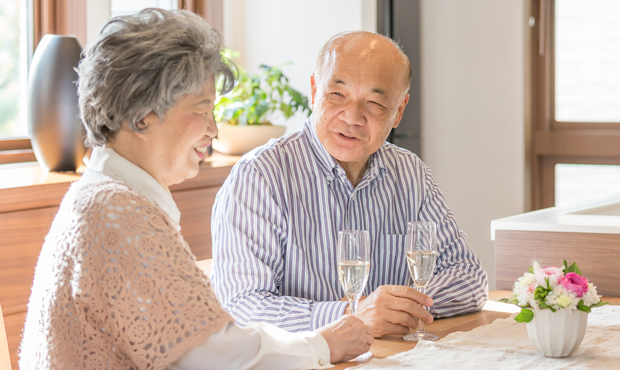 Clients working from home also have the option to customize their request such as airing the futon, receiving deliveries, grocery shopping, or any housekeeping tasks that you would be needing during the service day.
14:30

Clean up Lunch, Kitchen cleaning
30 mins

15:00

Shopping (food & Commodity)
40 mins

15:40

Bathroom, Powder room & Toilet cleaning
50 mins

16:30

Dusting (Livingroom, Dining room)
10 mins

16:40

Vacuum cleaning, Floor cleaning
30 mins

17:10

Cleaning Pet's cage
20 mins

17:30
Monthly Fees
Hourly Fees ✕ 1 Time Service Fees ✕ Number of Services + Est. Transportation Cost of ¥900 / visit
Day
Hourly

Fees
Frequency
Service

hours

per service
Transportation

Charge
Total

Monthly

Fees
Weekday
¥3,000
Weekly
3 hours 〜
¥900 / service
¥39,600 〜
Weekday
¥3,300
Bi-weekly
3 hours 〜
¥900 / service
¥21,600 〜
Weekday
¥3,300
Weekly
2 hours

〜 2.5 hours
¥900 / service
¥30,000 ~
Saturday
¥3,300
Bi-weekly

/ Weekly
3 hours 〜
¥900 / service
¥21,600 〜
Comprehensive Service Options
Disinfection Cleaning

With the Nano-Diamond disinfectant spray, your home is clear from harmful bacteria.
Highly recommended to use once a month.
A more affordable service rates offered for clients wanting to have this service regularly.

Fees
Once
¥10,000 / service
Regular (Once-a-month)
¥5,000 / service

Professional Specialized Cleaning

Air conditioner, Kitchen exhaust, Bathtub Aprons and other deep cleaning task which needs specialized equipment and industrialized cleaning chemicals.

Sample Fees
Aircon
¥12,000 ~
Kitchen Exhaust
¥16,000 ~
Bathroom and Toilets
¥27,000 ~

Decluttering Services

Year-end decluttering and moving to a new home organizing task can be provided with a professional staff assigned.

| | | |
| --- | --- | --- |
| Fees | ¥5,000 / hour X 3 hours ~ | ¥15,000 ~ |

Cooking Services

A service for clients who just want to enjoy a good meal after going back home. This service can be used one time. We shall offer you meal options after consulting your preferred dish and food preparation rules.

| | | |
| --- | --- | --- |
| Fees | Hours consumed will be depending on the menu | ¥3,000 / hour ~ |

Meal delivery service

Clients who prefer to have a well-balance diet meal delivered on their door step. Bento meals that are nutritiously prepared to prevent lifestyle-related diseases. Just heat the bento and bon appetit!

| | | |
| --- | --- | --- |
| Fees | 6 servings 1 time ~ | ¥3,880 ~ |
How to Acquire our Service?
Application for the Initial Trial Plan

Website or telephone application is available.

Scheduling the service date

We will contact you to fix the schedules.

Execution of the 2-hour initial trial service.

Explanation of the service contents on the first 60 minutes, to be followed by the actual cleaning task.

Estimation of time needed for each requested task

Scheduling of the regular service day preference and frequency of services.

Start your life with Kurashinity

Officially registered as Kurashinity's Regular Service User.
Services area
*Providing housekeeping services in Tokyo and Kanagawa area.
*Some areas may need further consultation.